Edith Cavell School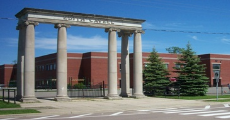 Grades
Language(s)
No. of Students
Kindergarten, 1-8
English
French Immersion
304
School Hours:
Kindergarten-2: 08:15 - 13:35
3-8: 08:15 - 14:35
Lunch Break:
Kindergarten-8: 11:50 - 12:10
Address:
125 Park Street
Moncton, New Brunswick
E1C 2B4
Contact:
Business: 856-3473
Facsimile: 856-2996
Website:
Principal
Vice-Principal
School District:
Anglophone East School District
East Boundary: Main and Wheeler Blvd at Champlain (Excluding Champlain)
West Boundary: Main Street to Vaughan Harvey (Including East side of Vaughan Harvey)
North Boundary: Vaughan Harvey and Edmonton (Only South side of Edmonton); Streets South of Edmonton and streets East of Lockhart (Including Lockhart) and South of Mountain Rd.; All streets East of North St. to Wheeler Blvd. All streets East of Winter, Including Winter
All streets South of Main and Vaughan Harvey to the Bridge Includes Limerick, Norwood, Essex, York, Shirley, Lockhart, Rogers, Edmonton, McEwen.